Less Visible braces
Click a section below to expand: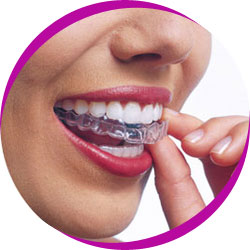 Invisalign treatment consists of a series of thin, clear, removable aligners. Each aligner is individually manufactured from a digital scan to fit your teeth very precisely. At each visit with us, you will be given a series of aligners at a time, which you can change yourself at home. As you replace each aligner, your teeth will move - little by little, week by week - until they have straightened to the final positions the orthodontist has prescribed.
In addition, we'll provide you with a virtual 3D treatment plan (ClinCheck®) that shows the series of movements your teeth will go through over the course of the treatment.
This allows you to see in advance what your teeth are expected to look like at the end of the treatment, or at any stage in-between. This is especially useful if you have a special occasion planned for a specific date in the future. From the results of the ClinCheck, your custom-made, clear aligners are produced especially for you.
Invisalign is suitable for adults and children with mild to moderate problems, who prefer a discreet, removable alternative to traditional braces.
If you are interested in Invisalign treatment, you can contact us at the practice to find out more.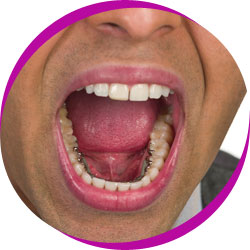 Lingual braces are a type of fixed brace. However, lingual braces are attached to the back of the teeth rather than the front, which means they are hidden.
Lingual braces are ideal for adults or older teenagers who are concerned about the appearance of traditional fixed appliances. As they are the least visible type of appliance available, you can smile with confidence throughout treatment.
Lingual braces are completely custom made. All the individual components and wires are digitally manufactured to fit and move your teeth in an extremely precise way. This accuracy of design means that lingual braces can be used to help correct even the most severe of orthodontic problems.
For more advice about lingual braces please visit our Resources page where you can download PDF information leaflets. You can also find out more by visiting the British Lingual Orthodontic Society website.
Ceramic braces are similar to fixed metal braces in that they are fitted to the outer surfaces of the teeth. However, the brackets are tooth coloured, which means they are far less visible than traditional "train-tracks". As an alternative to conventional metal braces, the clear and translucent design gives you all the self-confidence you need to face each day with a smile.