Retainers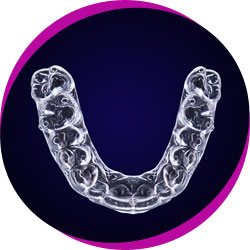 Once your orthodontic treatment is completed, we will provide you with retainers to wear. Retainers can be removable or fixed and play an extremely important role in your treatment. This is because retainers are designed to hold your teeth in their straightened position. If your braces were just removed and no retainers worn, your teeth would move back again.
Removable retainers are usually worn for a few hours in the evening and then in bed at night. Usually 12 hours out of 24 in total. However, you may need to wear them more than that initially. They should be removed for eating and cleaning. Your orthodontist will recommend how long you need to wear them for.
Fixed retainers are glued to the back of your front teeth and are usually designed to be in place on a long-term basis. Your orthodontist will advise you whether you will need a fixed retainer. If so, you will usually still need to wear a removable retainer as well.
If you are currently wearing retainers, don't forget to bring them to your check-ups with the orthodontist.
For more information about retainers, visit our Resources page where you can download a Retainers PDF and watch a video produced by the British Orthodontic Society. For further information on how to look after your retainers, read our Brace Care FAQs.