Rainford Orthodontics
St Helens, Merseyside
We can help you achieve the beautiful smile you've always dreamed of.
No matter what your age, from traditional braces through to virtually invisible alternatives such as Invisalign clear aligners or lingual braces hidden behind the teeth, we can offer you a modern, affordable solution to fit your lifestyle.
All our orthodontists are registered specialists which means they have undergone an additional three years of training and education in orthodontics compared to regular dentists. Teeth straightening is what we do exclusively, day in and day out.
We love nothing more than seeing how people change in the way they feel about themselves as a result of the work we do.
So why not contact us today? Our friendly team is on hand to take you a step closer to the smile you've always wanted.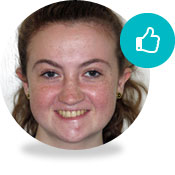 "I'm writing this card to show you how thankful I am for my new teeth. (At this time I'm writing this card I'm smiling). Having straight teeth gives me the confidence I need to go onto college and I cannot thank you enough for my straight teeth. Many thanks to the team who helped you help me."
Lydia Boyd, St Helens

Read what the Care Quality Commission had to say about Rainford Orthodonics